Family letter - New Year 1996
If you know me, you're welcome to read this duplicated letter. If you don't, I can't imagine you'd find it interesting.
This was the body I used to make "individualised" letters with in mid-December, 1995, the year we went to Hokkaido. That was also the year we managed to produce New Year cards in time!
---
Merry Christmas and a Happy New Year for 1996 to you all!!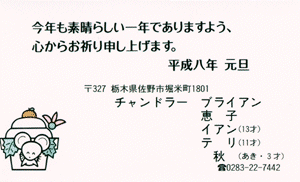 New Year card for 1996
We finally got round to having our own New Year cards made for this year, as you see: according to local custom, the postman struggles round delivering them all on New Year's day. We're late as always, but I hope this at least reaches you in 1995. The motif in the corner, by the way, includes 'mochi' rice-cakes, a sort of Japanese equivalent of Christmas pudding, and a mouse, because 1996 is the year of the rat in the Chinese 12-year cycle. Golly, that means both Terry and I are a multiple of twelve years old next year.
I ought first to apologise for last year's letter, which, um, never got written. We had a wonderful trip to England (and Wales and France and some other bits) in the summer of 1994. Things were quiet when we got back, but then towards the end of the year I found myself snowed under.
There doesn't seem to be much (family) news this year - we are settled in here, though I still haven't quite finished putting up bookshelves in the office (or quite a few other jobs, actually). The year started with some rather momentous non-family events: first the terrible earthquake in Kobe, then the Aum attacks in Tokyo. Neither affected us directly, though the underground line they planted Sarin on is one I often use. The trials and so forth are still a regular item on the news.
We did at last get to Hokkaido, the northernmost (big) island of Japan, this summer. The weather was amazing: cool, misty and wet, and rather like going from Spain to Manchester for your summer holidays. We did a bit of camping, encountered various wildlife - foxes, deer, and lots of fungi - climbed a hot waterfall to sit in the hot spring pool at the top, and generally enjoyed ourselves immensely. Oh, there was a lake with a hot beach as well: you dig a hole in the sand and it fills with hot water! Volcanoes everywhere: we also visited Showa-shinzan, the one that emerged from a radish field in 1944. Very wild and beautiful island, and of course actually it was quite nice to escape from the continuous 30+ degree heat here.
Ian and Terry are both doing well at school. Ian started secondary school in April (actually "Junior High School", the same as the American system). He got a pretty good report at the end of his first term, but a bit of a lapse this winter term: he managed to be behind his friend Sekiya at English, much to the shame of the family name! Terry doesn't do badly when he puts his mind to it, but unfortunately when he doesn't his writing turns to mollusc crawl. They are both progressing with piano lessons too. Aki is also growing fast, and talks endlessly: most of what he says is in Japanese, but he also understands English when I talk to him.
I'm sorry this is a bit disjointed. I don't know when we will next make it to England, since there has been a decided downturn in work over the last year, but I'm hoping that perhaps things are beginning to pick up again. Anyway, remember we always have a spare room here!
Very best wishes
Brian, Keiko, Ian, Terry and Aki Chandler

---

Back to
Family Page